Biography
POSITION
Founder/Designer, Studio Mode
PRESENTATION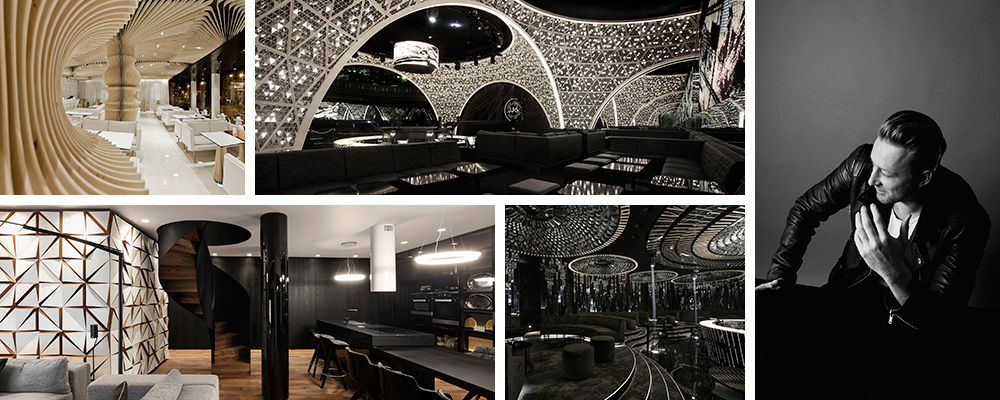 NIGHT FLIGHT BY MODE
Night flight is a live music club that spreads on 1000 sq.m. our design was inspired by its name. We re-created the notion of a midnight walk /  flight  under a starry sky. We situated  the stage  in the center  of the pace in order to achieve 360 contact with the audience. The seating is arranged in three tiers + one balcony. We created a boudoir for the VIP tier  that overlooks the main hall.
We had to unite function with esthetics. We set up  the night scenery by using the binding effect of sound insolation  – adding extra depth to the walls and absorbing  all light reflection. The gllitering of stars was represented  by a luminous web – a spherical surface that enhances the central perspective. Mirror reflections were used by reason of mutiplication and modification of the  space proportions.
Our main ambition (in wich we succeeded) was to use suggestion, to manipulate the proposition in order to evoke a precisely formulated effect – fairy – tale / fabulous ambiance, complexity of perception/ comprehension. Emphasizing on detail, enriching it, following the concept  to a greater depth resulted in multilayer experiece. Other than that, an essencial part of our work was to create a unique identity, a ditinguished label.
AWARDS
AWARDS;
2016 CLUB MASCARA AMERICAN ARCHITECTURE PRIZE — HOSPITALITY CATEGORY
2016 FLASH CLUB RBDA NIGHTCLUB AWARD
2016 FLASH CLUB ARCHITIZER A+ SPECIAL MENTION
2015 NASH DOM AWARDS
2015 :PM CLUB ARCHITIZER A+ AWARD
2014 NIGHT FLIGHT RBDA AWARD
2014 NIGHT FLIGHT ARCHITIZER A+ AWARD
2014 I-st, II-nd and III-rd place, PRIVATE APPARTMENT, LOFT SOFIA, MAKE UP STUDIO – NASH DOM AWARDS
2012 GRAFFITY CAFE RBDA BEST BAR AWARD
2012 GRAFFITI CAFE RBDA EUROPE BAR AWARD
2012 I-st, II-nd place, PRIVATE APPARTMENT- NASH DOM AWARDS
2008 I-st, II-nd place, OFFICE SOFBUILD, SOFIA – NASH DOM AWARDS
BIOGRAPHY
Svetoslav Todorov is interior designer with worldwide recognition in the field of interior design. Founder and lead designer of STUDIO MODE he worked on various projects – in the private and the public sector. He graduated from the University of Forestry in Sofia with a degree in Mechanical Wood Technology. In 2003 he founded studio MODE.
Over the years he is working on wide variety of boutique projects. He is Author of a series of projects globally recognized. The most vivid example of his success are the prestigious awards for best bar in Europe and the best bar in the world for 2011- 2012 of the independent British competition Restaurant and Bar Design Awards with project Graffiti Cafe in Varna.
Follows recognition across the Atlantic and in 2014 received the prize Popular Choice Winner of Architizer A + Awards in nightclub categopry for the project club Night Flight in Sofia. Later the same year club Night Flight won the Best Bar Award in Europe 2013 – 2014 of the British forum Restaurant and Bar Design Awards .
In 2015 studio MODE consolidate its position of leader in the Food and Beverage Category and once again won the Popular Choice Winner Award in nightclub Category of Archaizer A+ Awards (New York) for the project: PM CLUB Sofia.